The Ormeau Club Singles Championships 2022 was a huge success, with four nights of thrilling table tennis matches. 240 matches were played in eight categories for both juniors and seniors. After much anticipation, eight new Ormeau Champions were crowned. The junior categories included Under 19, Under 15, Under 13 and Under 11. The senior categories were A's, B's, C's and Masters. The atmosphere each night was was electric, with each point fiercely contested. The Ormeau Club Singles Championships 2022 was a great success and we look forward to seeing the same level of enthusiasm and skill at next year's tournament. Thank you to everyone who played and made this such a special event.
The A Singles tournament was an incredibly competitive event. The final saw Paul McCreery take the title, beating his Commonwealth Games teammate, Zak Wilson. In an exciting semi-final, Conor Nugent narrowly missed out on a place in the final, finishing in third place after a hard-fought match against junior Alex Lo. The consolation final saw Anjali Singh come out victorious, beating Senan Sheridan in an entertaining match. All the players involved gave it their all and put on a great show. Paul McCreery's victory marks a great achievement and is a testament to his hard work and dedication. He can now lay claim to being the Club Champion. 
Aaditya Singh emerged victorious after defeating Aaron Kearney 3-1 in a hard-fought final. Aaditya was in top form throughout the tournament, showing why he is one of the top junior players in the club. The semi-finals were tightly contested, with Danny Power and Jeff Irvine narrowly losing out to Aaron Kearney and Aaditya Singh respectively. Danny and Jeff put in a valiant effort and can be proud of their achievements. The Consolation Final was won by James Hanna, who defeated John Close in a thrilling match. 
The C Singles final was between junior Christopher Allsop and Elaine Close. Elaine had a great run during the tournament, coming through in group countback and taking out the No. 1 seed Marc Edwards. But Christopher was too clinical on the day, taking the match 3-0 without dropping a set. The 3rd place playoff saw Brian Heading triumph over Mel O'Hagan. Brian played great table tennis throughout the tournament and it was great to see him rewarded with a podium finish. Conor Moran was another standout performer, winning the Consolation final over Frank Geary. It was a great effort from both players, with Conor coming out on top. 
The Masters (Over 40s) was an incredibly competitive event. There were some of the most experienced players in the club vying for the top prize and the level of play was incredibly high. The final was between Breandan O'Fiaich and Chris White. Breandan is a seasoned veteran of the game and his experience showed as he took the final 3-0. It was a close match but Breandan was able to pull off the victory. The 3rd/4th playoff saw Jeff Irvine take on James Hanna. Jeff was able to take the match 3-1, securing a top 3 finish. Danny Power and Dave Tweedie competed in the consolation final. Danny was able to pull off the win here, taking the match 3-2.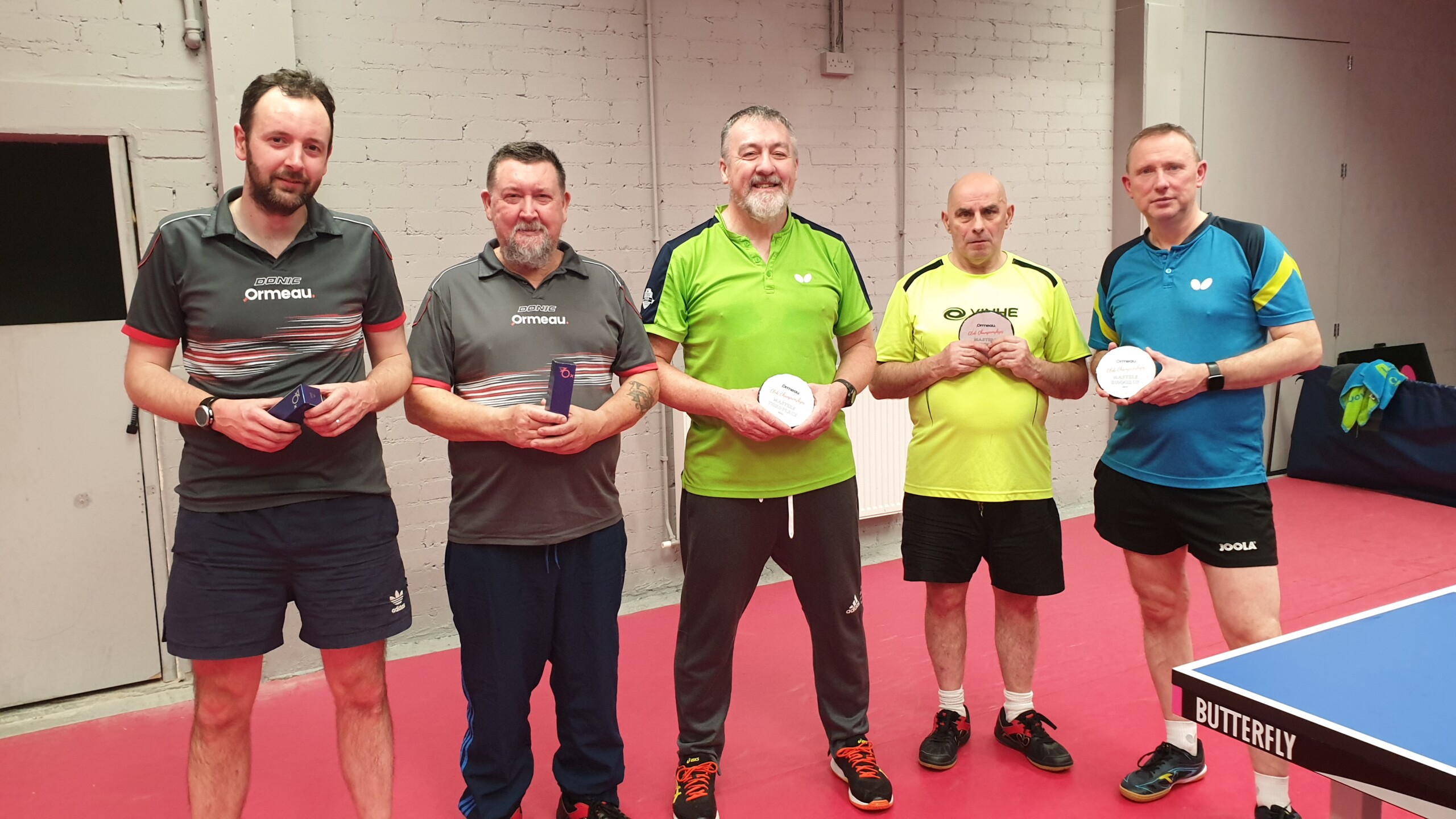 The 2022 Under 19 event was full of surprises. Euan Hanna, the underdog, was on a mission to prove he could compete with the best of them and went on to play the event of his career. In the final, Euan faced Anjali Singh. Anjali had already come through a tough semi-final, beating her brother Aaditya 3-1, and was determined to win the title. The match was full of tension and excitement, but in the end, Euan was victorious, winning 3-1. Aaditya had also caused a stir in the event. The Number 1 seed, Alex Lo, was taken out in the quarter-finals by Aaditya 3-2. In the semi-finals, Euan beat Senan Sheridan 3-2, in a match that could have gone either way. The consolation event was won by Grace Looney over Niamh Mason.
The Club Championships 2022 Under 15 event was a thrilling and exciting affair. Peadar Sheridan was the star of the event, winning the final 3-1 over Aaditya Singh. Grace Looney was in third place with a 3-0 win over Toby Caldwell. Karsten Close won the consolation event, but he was pushed all the way by his opponent. Close had to work hard in order to secure his victory, showing his resilience and strength in the face of tough competition. 
Under 13s division was won by the in-form Toby Caldwell, who won 3-1 over Christopher Allsop & Karsten Close. Christopher Allsop took second place, winning 3-1 over Karsten Close. 
Under 11s division was won by the in-form Karsten Close, who won 3-0 over Leah Gal & Tobias Gal. Leah had a close 3-2 game with her brother 3-2 to take second place.